In this section...
Careers Resources for Parents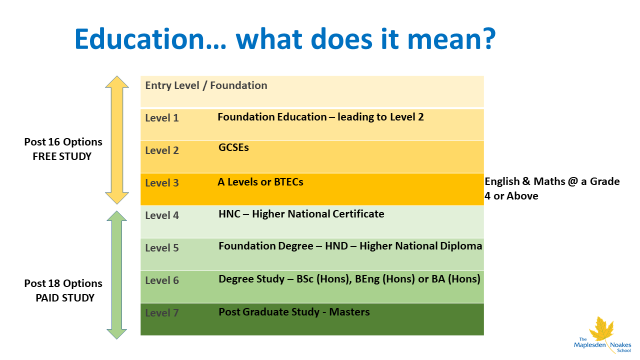 Here at The Maplesden Noakes School we work with students from the moment they step through our school gates, encouraging them to start exploring and researching the world of work.
Students take part in employer talks that are delivered within subject lessons, learning where the subject can take them is key to making decisions at pivotal moments such as choosing GCSE's, A Levels and going on to Higher Education. Students also learn about careers within their PSHE lessons and on Focus Days.
Please refer to The MNS Student Career Journey document to view all activities that every Maplesden student is offered when studying here at our school.
The MNS Student Career JourneyParents are encouraged to talk about the world of work at home and to help parents do this, we can provide parents with access to Unifrog. Unifrog holds the worlds largest careers database and details Post 16 and Post 18 opportunities. Every student has access to Unifrog from Year 7 through to Sixth Form. If you would like a parent log in, please contact the careers department directly.
Just for fun, you could take the buzz test on icloud.com to find out your personality animal type and the careers that would suit you!
www.icould.comApprenticeships are a viable pathway for many students at Post 16 and Post 18 and employers are encouraged to work with our school advertising offers and alternative pathways. To find out more around apprenticeships as a parent, please click on the parents guide below.
For further websites, please access our Post 16 and Post 18 links on the Careers page.
Apprenticeships - A Parent's Guide
To keep up to date with the world of work and to help guide students, you can access Careermag Parents magazine - this is a great resource that is updated termly that covers lots of current issues that students are facing.
Labour Market Information - (LMI) is key when making decisions about your future career path. It includes facts, analysis and interpretation of data gathered about employment & workers, for example: average income and wages, employment and unemployment rates in your area, hours of work, which sectors are set to grow, qualifications required, gender balance and so on. Unifrog provides students with extensive up to date opportunities. Students can also access:
LMI For AllThe National Careers Service website sets out job profiles and groups jobs by type and is useful to find out what the job is like and the qualifications you need.