In this section...
Eco School
Last academic year a team of students, lead by Mrs Peerbux and Mr Early, worked incredibly hard on several eco-projects around the school. Their largest project focussed on rejuvenating and caring for Charlie's Garden. We'd like to extend a massive thank you to the staff and student volunteers for their help on this project. The hard work of all involved in this project and others eco-projects meant the school was awarded ECO SCHOOLS STATUS with a Merit. Congratulations to all involved.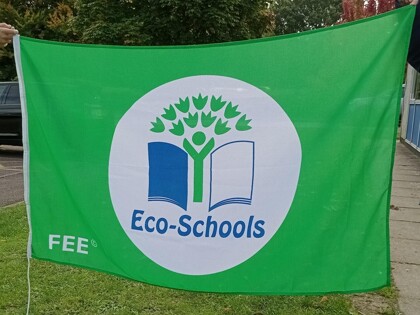 Some of the Student Eco Committee have written a few words about their work and experiences:
"Last year our task was to renew Charlie's Garden. Our eco members put together a fixed time for us to refurbish it and we got started on specific tasks for us of us to complete, some of us painted the benches and some were trimming the branches. We had 2 periods to complete this project, it was on a Friday. I enjoyed painting the benches and trimming branches although, trimming the branches did make my hands a bit sore. Painting the benches made the place more distinct and fresher. I enjoyed this project and I hope that we do more activities like this." Year 9 Student
"Before we started this project, we spent many hours and weeks planning what we were going to do. We had many ideas for this project as a team. We soon enough figured out this whole project and it ended up being a big hit when we started it before half term. We had meetings upon meetings during form time which we used to help plan everything weeks before the start of the project. This was helpful as we had everything planned out at the time, we were able to go straight into it." Year 11 Student
"The Charlies Garden task was a challenge of which had a lot of time and arduous work put into it. The work and meetings planning it soon made an enormous difference to the 'Oasis' of the school all to be worth it, all the challenging work paid off to a beautiful result all going to the cause of the Eco-Committee and the school's eco-system." Year 8 Student
The Eco Schools team are excited to continue with work this year and are looking to expand the committee and recruit volunteers. Some projects they are keen work on include work on sustainability and recycling. New student members will be welcome and nomination forms have already been sent to all students. If you are currently in Year 7-13 and would like to be considered for membership onto the committee then please see Mrs Woollett who will be able to answer any questions you may have.
Should you have any suggestions on how to improve the School's carbon footprint or help the environment then please email your suggestions to ecogroup@maplesden.kent.sch.uk
We look forward to working together to continue our Eco journey
The Eco Committee