In this section...
Careers Programme Information
Department Staff
| Name | Role |
| --- | --- |
| Miss J Usher | Careers Lead |
| Mrs E Mills | L6 Qualified Careers Advisor |
| Mrs D Thomas | Careers & Outreach Assistant |

Department Email:
Information
The Maplesden Noakes School employ a Level 6 qualified Careers Advisor, Mrs Mills to help deliver free, independent and impartial careers advice to students whenever significant study or career choices are being made. Mrs Mills is supported by Mrs Thomas, Careers Assistant. Students can drop in to see them with any careers questions during break or lunchtime. They can also be contacted by parents and/or students via e-mail using the link above or called on the normal school telephone number. Please refer to the individual roles and responsibilities in order to maintain and deliver effective CEIAG throughout Maplesden Noakes.
In July 2017 Maplesden Noakes achieved the prestigious 'Investor in Careers' award - a national quality standard for careers excellence in schools. Investor in Careers is one of the highest accolades a school can receive in this area and is focused on improving opportunities awareness, raising aspirations and working to ensure that young people achieve their full potential. Please visit the website www.investorincareers.org.uk for more information.
Careers Roles and Responsibilities
Careers Strategy Framework - Key Stage 3Careers Strategy Framework - Key Stage 4
Careers Strategy Framework - Key Stage 5
Careers Resources for KS3 Students & Parents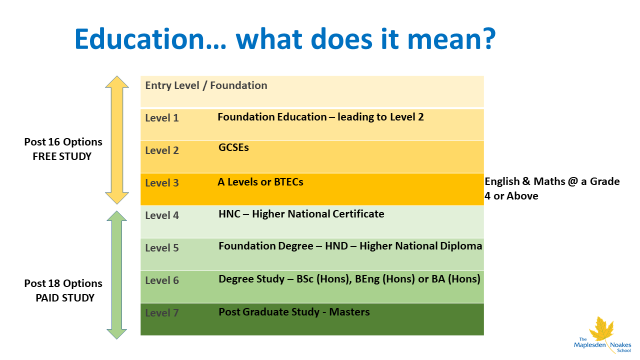 www.icould.com - Take the buzz test on icould.com to find out your personality animal type and the career areas that would suit you. Are you a dolphin or a teddy bear!?
Apprenticeships - A Parent's Guide
https://amazingapprenticeships.com/resources/?parents-packs=1
Careermag for Parents SBT2269CareermagforParentsIssue5v2FINAL.pdf
Sign in to your Unifrog account to access an extensive Career library, Know How guides and Careers resource links https://www.unifrog.org/
Labour Market Information - (LMI) is key when making decisions about your future career path. It includes facts, analysis and interpretation of data gathered about employment & workers, for example: average income and wages, employment and unemployment rates in your area, hours of work, which sectors are set to grow, qualifications required, gender balance and so on. https://www.lmiforall.org.uk/
nationalcareersservice.direct.gov.uk - The National Careers Service website sets out job profiles and groups jobs by type and is useful to find out what the job is like and the qualifications you need.
Post 16 Options
Year 10 Work Experience
WEX Guide for Parents & Students (2021 to be uploaded)
Employer Work Experience Placement Form (2021 to be uploaded)
Parent Work Experience Permission Form (2021 to be uploaded)
Post 18 Options
Student Destination Information - Years 11 & 13 2019/20