In this section...
Careers Programme Information
Department Staff
| Name | Role |
| --- | --- |
| Mrs L Duckworth | Link Governor |
| Miss J Usher | Careers Lead & Deputy Headteacher |
| Mrs E Mills | L7 Qualified Careers Advisor |
| Mrs D Thomas | Careers & Outreach Assistant |

Department Email:
Our Vision:
The Maplesden Noakes School aim to support our students in understanding, engaging with and developing their future pathways from the very start of Year 7 to Year 13, and to provide them with the skills, confidence and resilience to achieve the highest aspirations in a world of change and competition.
Our Strategy:
Careers guidance is critical for young people today. At The Maplesden Noakes School, we understand that we have an important role in preparing students for the next stage of their education, training and employment.
Career pathways are now more challenging and complex than ever before, and we know that young people will have several careers during their working lives, including some which do not currently exist. We recognise that the current COVID-19 pandemic has added an extra level of uncertainty to this aspect of education.
With increasing choices in education, training and employment, our aim is to prepare our students for these widening opportunities, experiences and responsibilities and to equip them with the High-Performance Learning skills to manage the options, changes and transitions which lie ahead of them.
We aim to have a whole-school approach to this, with every single member of staff helping to deliver high-quality, impartial Careers Education, Information, Advice and Guidance. This will enable students to access the information necessary to making informed decisions about their future. Our careers programme plays a crucial role in the curriculum and is based on the most recent guidance from the government. It supports the achievement of each of the eight Gatsby benchmarks, which is our goal by the end of 2021. Careers education at The Maplesden Noakes School is being integrated into every aspect of the curriculum and our aim is to ensure that all students understand the links between what they learn and their future pathway.
We want students to achieve beyond examination grades: we want them to achieve their highest dreams and aspirations.
The MNS Careers Policy, Strategy & Objectives
The MNS Careers Programme Years 7 - Sixth Form
Careers Resources for KS3 Students & Parents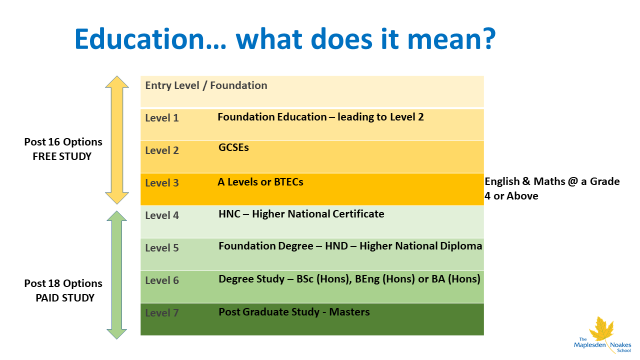 www.icould.com - Take the buzz test on icould.com to find out your personality animal type and the career areas that would suit you. Are you a dolphin or a teddy bear!?
Apprenticeships - A Parent's Guide
https://amazingapprenticeships.com/resources/?parents-packs=1
Careermag for Parents SBT2269CareermagforParentsIssue5v2FINAL.pdf
Sign in to your Unifrog account to access an extensive Career library, Know How guides and Careers resource links https://www.unifrog.org/
Labour Market Information - (LMI) is key when making decisions about your future career path. It includes facts, analysis and interpretation of data gathered about employment & workers, for example: average income and wages, employment and unemployment rates in your area, hours of work, which sectors are set to grow, qualifications required, gender balance and so on. https://www.lmiforall.org.uk/
nationalcareersservice.direct.gov.uk - The National Careers Service website sets out job profiles and groups jobs by type and is useful to find out what the job is like and the qualifications you need.
Post 16 Options
Year 10 Work Experience
WEX Guide for Parents & Students (2021 to be uploaded)
Employer Work Experience Placement Form (2021 to be uploaded)
Parent Work Experience Permission Form (2021 to be uploaded)
Post 18 Options
Student Destination Information - Years 11 & 13 2019/20
Current Position: Areas of Strength
The evaluation of our current summary is based on mapping our careers provision against the Gatsby benchmarks by using The Careers & Enterprise company Compass+ tool.
Gatsby Benchmark
% of assessment areas achieved for 2020:21:
% of assessment areas achieved for 2019:20:
% of schools nationally meeting this benchmark (2020)

GB1:

Stable Careers Programme

94%

88%

21%

GB2:

Learning from Career & LMI

100%

100%

45%

GB3:

Addressing the needs of each pupil

100%

81%

20%

GB4:

Careers in the Curriculum

100%

100%

38%

GB5:

Encounters with Employers and Employees

75%

100%

52%

GB6:

Experiences of workplaces

87%

87%

47%

GB7:

Encounters with FE & HE

83%

100%

21%

GB8:

Personal Guidance

100%

62%

57%
Areas of Strength:
Careers Leader has successfully undertaken The CEC Careers Leaders programme.
Careers Advisor has successfully undertaken the Post Graduate Award in Careers (Level 7)
Careers Advisor is actively involved participating in the local Maidstone & Malling CEIAG Network Hub, facilitating and shaping the meeting with the Chair, FE Institutions, The Education People, The Careers & Enterprise Company as well as local school provisions in order to remain current with developments within Industry.
The Maplesden Noakes School is a School Affiliate member of the CDI (Career Development Institute). This provides us with regular CPD opportunities, careers news and updates from career professionals and national representation.
The School actively promotes the NCS (National Citizen Service) Programme for Years 11 and 12 along with actively promoting Camps International opportunities.
The School are a member of The Careers Advisor Network run by the Careers & Enterprise Company. We have access to our own Enterprise Co-ordinator who provides CEIAG advice and opportunities and advice on improving our CEIAG provision by regularly meeting and our Employer Advisor (EA) provides strategic advice and Industry knowledge and works closely alongside our Link Governor.
The School has close links and good relationships with nearby Further Education colleges, including Mid Kent College and Hadlow College, encouraging aid and smooth transitioning during pivotal school journey points.
Each curriculum subject area dedicates careers education within their curriculum with access to the dedicated Careers in the Curriculum Padlet.
The school maintains its Partner School status with The University of Kent, Canterbury Christ Church University and The University of Creative Arts. Enabling students' access to Higher Education outreach activities, along with the opportunity to attend University Summer School / Easter programmes.
All students have their own Unifrog profile from Years 7 – 13 which enables them access to local and national LMI along with access to an extensive careers library, live apprenticeship search database and a university search tool. All parents are able to access this information with their own parent code in order to help support their child during Post 14, Post 16 and Post 18 decisions.
Students from Year 10 upwards are given the opportunity to take part in virtual work experience placements that are typically offered by SpringPod, Speakers for Schools and Young Professionals that take place during half term and summer break.
Students from Year 9 upwards are offered the opportunity to take part in The University of Kent, Canterbury Christ Church University and The University of Creative Arts on campus Summer Schools. Entry criteria must be met that is set by the Universities themselves.
All Year 10 students have the opportunity to take part in a week-long work experience placement that is typically scheduled for the last week in Term 6 within the curriculum.
All Year 11 students have the opportunity to take part in a two-day Employability Skills programme that is delivered on CV writing, interview skills and results in a face to face mock interview with a local employer who delivers constructive feedback on both their CV and interview performance.
All Year 12 students have the opportunity to take part in a two-week Business Challenge programme that is supported by our Link Governors and local employers that involves the students working and delivering on a set project where their team findings and evaluation is then presented to the business in a professional working environment.
All Year 13 students are encouraged to become part of The Maplesden Noakes School Alumni on Linked In.
All Key Stage 5 students have access to a comprehensive and maintained Careers Padlet that details all of the latest Apprenticeship vacancies, UCAS Fairs, University open days, Careers Advice and Guidance, Webinars and Virtual Work Experience opportunities along with local LMI.
All parents, guardians are given the option to access Unifrog using their own parent code that enables them access to current LMI. The tool also enables parents' access to current knowledge on alternative pathways and CEIAG at pivotal points within the students' school journey.
Typically, the school has maintained zero to low NEET (Not in Education, Employment or Training) figures with the majority of students moving on to Further Education Post 16. Please refer to our Destination Data page for a broken-down analysis.